Complete Packaging Solutions For Aircraft Components
BTA offers off-the shelf customized solutions, ATA 300 Specification Containers, as well as problem solving capabilities. Rest assured, BTA is devoted solely to serving the Airline Industry.
BTA's unique history and capabilities allow us to design, quote, and deliver the proper and suitable packaging based on the Component Part Number to be protected.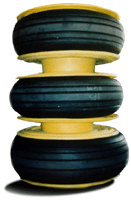 Before arriving at any packaging solution, we'll consult you to achieve the best, most protective, and cost effective solution possible. We will always take into consideration all aspects of your product's lifecycle: from manufacturing and storage, to transportation modes, end user applications, and ease of handling. The latter is vital to employee safety and productivity.
We also consider your usage: A particular material or process may be suitable and cost-effective for smaller quantities, but not practical for larger volumes. Similarly, we choose from a variety of plastics, metals, foam, rubber materials, and woods to find the perfect combination of strength, weight, size and shape.
Put BTA On The Case
This common theme is the underlying thread for the successful implementation of proper packaging for your components.